According to the coverage of South Korean media, South Korean LED supplier Lumens has decided to expand its business of soft LED display. The company had announced a few days ago regarding the development of a soft LED display, with mass production ready to go, and has started to expand on production applications, whilst looking for potential clients.
As reported, this soft LED display adopts LED pixels, with its thinness and lightweight as the largest selling point. The display is merely 3mm in thickness that is 1/3 of the thickness of existing soft LED displays, and weighs 300g, which is half of what other products weigh, where its 300mm radius of curvature facilitates easy installation on curved circular columns, and measures in 160mm and 480mm for its length and width respectively. Lumens claims that despite the miniature dimension, the particular display can be attached on other products such as splicing displays in order to satisfy the design and dimension required by clients.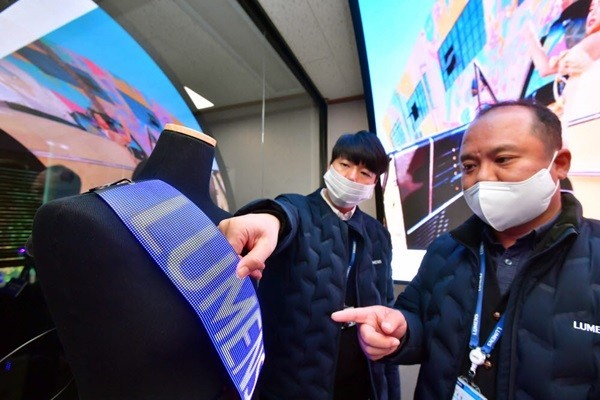 (Source:Lumens)
Lumens also emphasizes that this soft LED display uses magnets for installations, which offers a better experience in installation and disassemble, and minimizes the amount of cables used.
Lumens is a manufacturer of display devices, and covers fields of backlight and illumination for product applications. The company developed a 0.57-inch Micro LED display, as well as modulated LED displays that can be formed into a 100-inch or above monitor, in 2017.
Lumens exhibited the 0.57-inch Micro LED display at the CES this year, which is merely 10um, and is paired with a monochrome Micro LED display driven by a CMOS backplane, with two options of blue and red to choose from. According to the interview and understanding of the LEDinside department under TrendForce, Lumens hopes to penetrate the projector market through this product.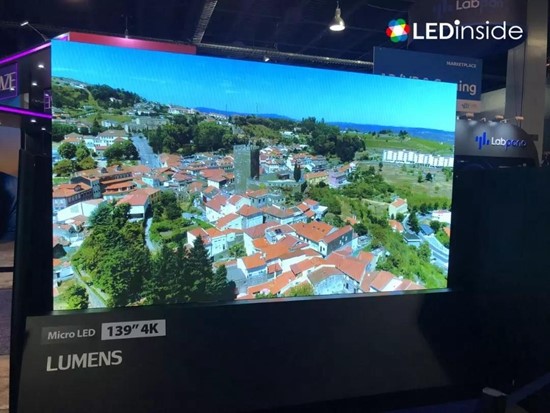 In addition, Lumens also exhibited a 139-inch 4K Micro LED display with a pitch of P0.8mm, and had produced an automotive panel using such module to render a high contrasting display effect.
However, Lumens has yet to achieve apparent breakthroughs in the Micro LED field. The company believes that soft LED display can be used for extensive uses, including the advertisement panels in metro stations and exhibition venues, which resulted in the decision of shifting its focus towards the development of the soft LED display market. While developing the particular product, Lumens is also actively establishing partnerships with the advertisement sector.
Lumens had obtained approximately 10 important patents on soft LED display and the relevant applications over the past two years.
Lumens expects soft LED display to start contributing to the sales performance from this quarter, and anticipates the revenue for this particular business to surge to US$8.97 million. The company is currently on the verge of working with automotive manufacturers and electrical equipment in South Korea and other regions in the hope of promoting for the application of its soft LED display in next generation automobile.
(Author: Janice @LEDinside)